Arthritis Relief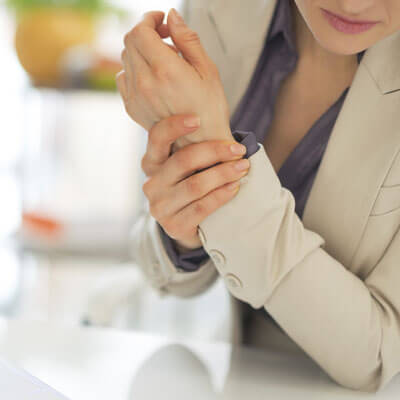 Osteoarthritis is the most common form of arthritis, and can be a debilitating condition. At The Chiro Lab , we offer chiropractic adjustments, soft tissue therapies and exercise rehab programmes to help our patients with arthritis address the symptoms and maintain as much mobility as possible.
What Is Osteoarthritis?
Osteoarthritis is an irreversible, degenerative disease that can result in joint pain, stiffness and limited mobility. However, degeneration alone does not necessarily predict pain—degeneration and related structural changes are quite common as we age, even in people who experience no pain.
The key factor in osteoarthritis is joint inflammation. While degeneration is a normal effect of ageing, inflammation is the body's response to poor metabolic health. Things like leading a sedentary lifestyle, being overweight and eating non-nutritious foods all contribute to the body's inflammatory response in the joints.
While many people still associate osteoarthritis with overuse and "wear and tear," research shows that underlying health factors like genetics and metabolic health play a significant role. Structural factors such as bone shape, alignment and previous injuries may contribute as well.
How We Can Help
Our chiropractor, Bentley Woon, offers a whole-person approach to care. He takes the time to listen to you, so he can understand your condition and how it is limiting your life. Then he focuses on locating and addressing the underlying cause of your problem through gentle chiropractic adjustments and soft tissue therapies. Many patients with osteoarthritis are unable to tolerate manual adjustments, so he will tailor your care using Activator® Methods, a very gentle adjusting technique to help restore proper joint mechanics.
While degeneration itself is irreversible, soft tissue work and rehab exercises may help reduce pain and inflammation and improve range of motion in the affected joints, so you can resume your favourite activities.
Get Started Today
We want our patients to know that osteoarthritis does not necessarily mean a lifetime of joint pain and disability. With lifestyle changes, pain management and our holistic approach to care, we want to help you live your best life now and for years to come.
Contact us today to schedule an appointment.

Arthritis Relief in Singapore, Central Area | +65 8861 3942